Let  the good times roll, join us for an exciting and fun-filled CELEBRATION!
Activities:
SPCA Recognition Awards
K9 Good Citizen Demo
Vendors & NGO Booths
Dog games & prizes sponsored by ProBalance
Giveaway: 50 x Neuter Vouchers*
Quiz: 10 x RM50 Gift Vouchers
Animals for adoption
Spin The Wheel game by Pet Lovers Centre: 400 prizes!
Dunkin' Donuts & ice-cold beverages!
Goodie bags @ RM10 … and more!
It's a pet-friendly event, bring your furry family!
Our awesome sponsors:
Rhone Ma, ProDiet, ProBalance, Pet Lovers Centre, That Bloody Diet, Dunkin' Donuts, Furrenz.com, Doggy Bag, OneFM, Petfinder.my and Desa Parkcity
Get updates on our Facebook page >>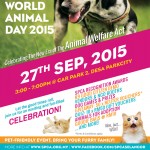 Click to view/ print official poster
SHARE this and help us spread the word: