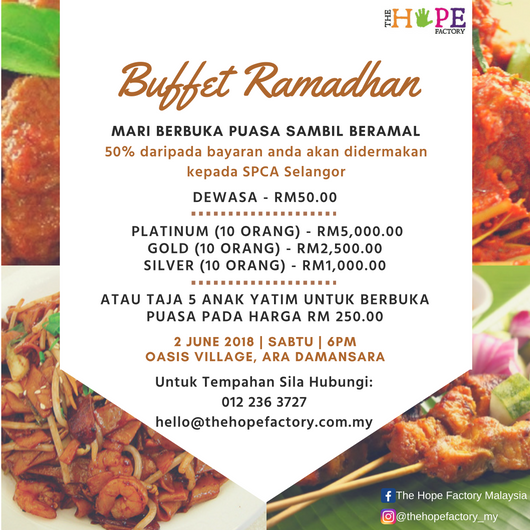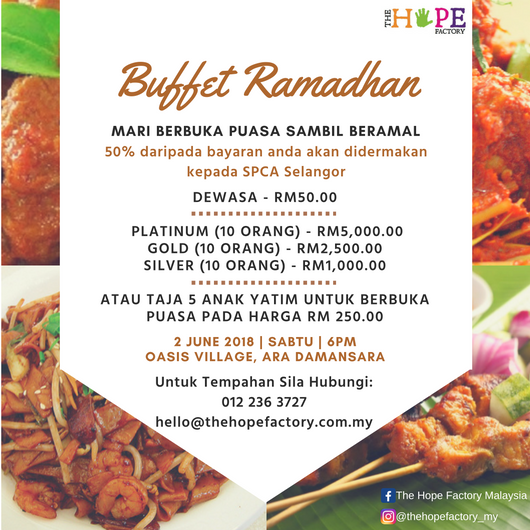 "Hopeful Ramadhan Benefit" is organized to raise funds for SPCA Selangor by selling dinner tickets to 300 people. Through the collection of the buffet dinner tickets, 50% of the proceeds are channeled back to our 'Stray Free Selangor' campaign.
Get any of the categories below!
PLATINUM
A traditional Ramadhan feast from savoury appetizers to exquisite fusion of authentic Malaysian cuisine & assortment of western dishes
GOLD
Indulge in an array of buka puasa treats with scrumptious mix of Asian delights
SILVER
Be tantalised with a variety of specially crafted dishes of local and international favourites.
(These categories are exclusively reserved with personal waiters)
OR
FEED 5 CHILDREN
Sponsor meals for FIVE underprivileged children from various non governmental organizations around Kuala Lumpur and Selangor
OR
Singe Adult ticket at RM50!
*50% of your contribution is eligible for tax exemption issued by SPCA Selangor.
So come and join us and have dinner for a good cause!
For bookings please contact:
012 236 3727
hello@thehopefactory.com.my