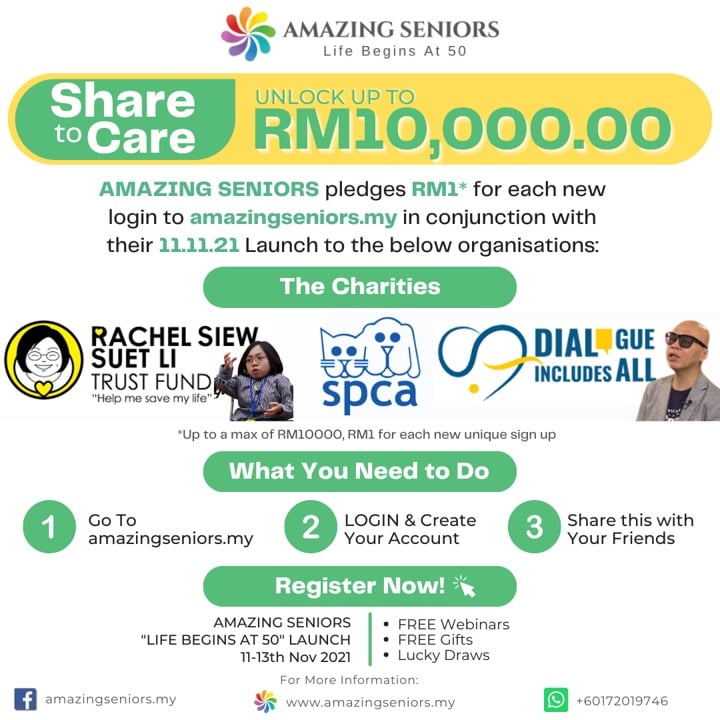 Amazing Seniors is proud to announce our social responsibility campaign called SHARE TO CARE to benefit three causes: SPCA SELANGOR, THE RACHEL SIEW SUET LI TRUST FUND, and DIALOGUE INCLUDES ALL.
We're pledging RM1 to the causes with every new sign up to the Amazing Seniors site https://amazingseniors.my/
and our launch event on 11, 12 and 13 November! So please SHARE to CARE and get more people signed up!
For our launch, listen to experts share insights about senior-related health, fitness, finance & investment, careers and travel safety. You can even learn how to sing and dance your stress away! As a BONUS, we've got FREE Gifts and Lucky Draw prizes lined up for EACH session! The webinars are FREE and spaces are LIMITED, so register here https://amazingseniors.my/events/1
Amazing Seniors is a new digital platform specially created for those aged 50 and above with a wide range of exclusive Deals, Events, Information and Privileges curated just for you!
Remember to SHARE to CARE !