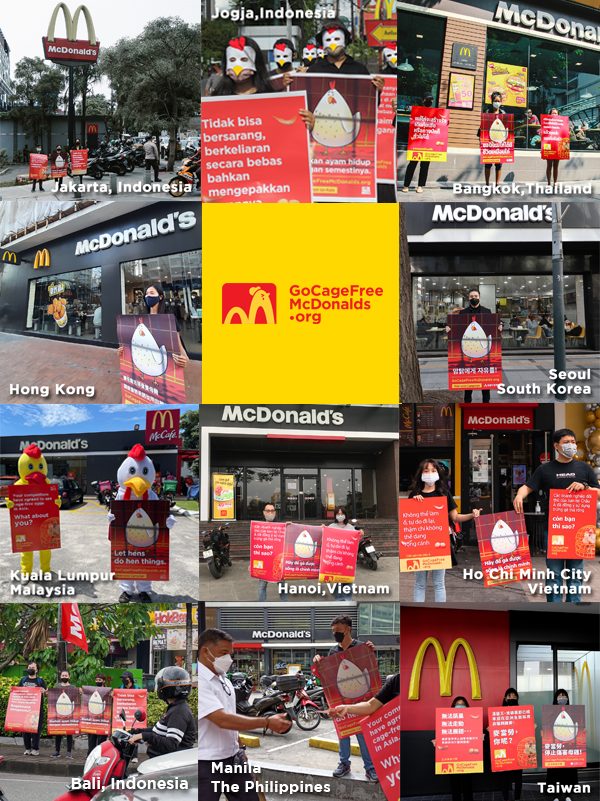 March 10 — SPCA Selangor joined a coalition of leading Asian animal protection organizations gathered outside McDonald's stores across Asia to demand the fast food behemoth stop serving cruel cage eggs in its restaurants in Asia. The coordinated street action took place in more than ten cities across Asia including Bangkok, Kuala Lumpur, Hong Kong, Manila, Ho Chi Minh City, Hanoi, Jakarta, Bali, Yogyakarta, Taipei, and Seoul. The action will continue for a number of weeks in major McDonald's markets.
The activists held illustrations depicting the plight of a caged hen. Hens on cage farms are stuffed into cramped cages so small they are unable to exercise, spread their wings, or even turn around freely.
"We coordinated this regional action because we are disappointed by McDonald's inaction to improve animal welfare standards in its supply chain in Asia, unlike other major fast-food brands who have pledged to move away from cages globally," explained Wong Ee Lynn, SPCA Selangor's Advocacy Manager and Farm Animal Welfare Programme Manager.
McDonald's largest competitors have already published comprehensive commitments to end their use of cage eggs in Asia. Burger King, KFC and Pizza Hut have all promised to eliminate cages from their egg supply chains in Asia by 2030. Earlier this year, McDonald's was called out for its inaction on animal welfare in the Global Cage-Free Restaurant Report by the Open Wing Alliance, which shone a light on the "worst offenders" in the restaurant industry.
"With nearly 10,000 stores across Asia, McDonald's failure to implement cage-free standards in this region has implications for both animals and human health," added Wong. In addition to animal welfare concerns, research shows that eggs from cage systems may also pose a higher risk of salmonella contamination.
McDonald's uses different sourcing standards for Asian consumers
In 2020, McDonald's began trumpeting a "values-driven mindset" as part of a new growth strategy, flagging plans to "make a difference in the world" in a bid to remain relevant to increasingly socially-conscious consumers.
However, McDonald's global and regional headquarters have refused to seriously engage with Asian advocacy groups about their cage-free plans, despite having pledged to drop cages from menus in the United States, Canada, Latin America, Australia, New Zealand and elsewhere. In the UK, McDonald's breakfast menus have featured exclusively cage-free eggs since 1998.
"Despite its supposed new direction, McDonald's remains intent on ensuring its brand is synonymous with animal cruelty and double standards in the minds of Asian consumers," remarked Wong, noting that tens of thousands of consumers have joined calls for McDonald's to adopt a cage-free policy in Asia.
Consumers can join the campaign at GoCageFreeMcDonalds.org