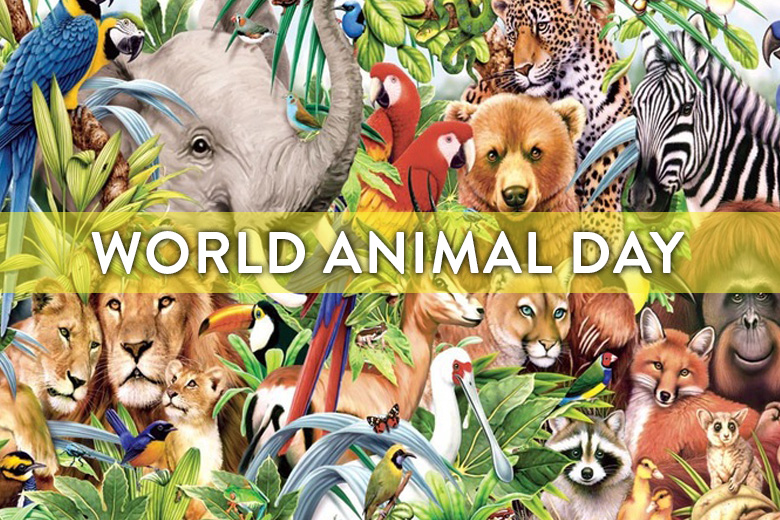 Happy WORLD ANIMAL DAY, friends!
World Animal Day began in 1931 as a way to highlight the plight of endangered species. This day has since evolved into a day to honor all the animals of the world!
There are so many ways that you can get involved on World Animal Day:
1)
Educate people
on the many unfortunate plights some animal suffer through – puppy mills, illegal dog-fighting, the cruel and illegal wildlife trade, animals raised for food on factory farms, animals suffering in animal-testing labs, circuses, badly-managed zoos and the list goes on.
2)
Write a letter
to your local newspaper, or put up a post on your favorite social media site, or blog informing people of the day and the meaning behind WAD.
3)
Donate to a local animal charity or shelter.
Local shelters are always in need of food, litter, and supplies.
4)
Volunteer
at your local shelter, animal-welfare/ animal-rights related organisations, or related advocacy groups!
5)
Go meat-free
, so no animals are harmed in the making of your meal.
6)
Stop to help a stray in need
, by just providing a meal, taking it for a vet check-up to help him/her heal from her injuries/ sickness, or foster the animal temporarily at home! With lots of tender, loving care – you will be surprised at how he or she blooms, if you can't keep a pet at home you can try to rehome via 
www.petfinder.my
7) Make your home/ school/ office more
animal friendly!
8)
Surprise your own favorite animal companion
with an unexpected treat and carve out some extra time during the day to enjoy their company.
9)
Expand your own knowledge and broaden your own horizons
by picking up a book by an animal expert like Dr Jane Goodall, or find a book that encourages kindness towards animals and share it with young children!
There are so many things you can do for animals, don't be limited by the list above – and you can do these wonderful things everyday, not just today! 
Happy celebrating, everyone!