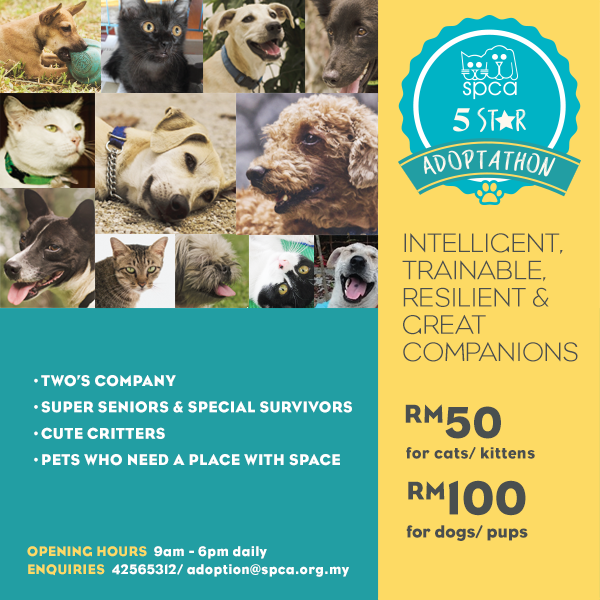 Help us rehome Happy Healthy Pets into forever homes!
Choosing a pet from us gives you all the advantages, the best value for money and the knowledge that you are saving a life.
ONLY RM100 for Dogs, RM50 for Cats who are;
• Properly Socialized, lovingly handled; we know our animals.
• Fully vaccinated and de-wormed
• Neutered/ spayed
• Heartworm-tested
• Comes with expert advice and support.
(That's RM500 of vet care alone!)
And that's not all, even more offers with each adoption;
• Start up pet care pack
• Dog training 50% off Foundation training course at SPCA (normally RM300), terms & conditions apply.
ADOPTION PACKAGES
TWO'S COMPANY
Adopt 2 pets and the second pet is half price! Can be two dogs, two cats, or one of each. Why 2? Pets get lonely and having a play mate is comforting and fun for your pet. Two pets are generally easier to handle than one. We will help you to choose perfect partnerships that will get on well together.
SUPER SENIORS & SPECIAL SURVIVORS – ONLY RM50
Older dogs & cats, special survivors make wonderful companions. Many have dealt with abuse and maltreatment and still long to love the human race and find forever families. They may be a little older but still playful and entertaining, yet with the wisdom and calmness of experience.
PETS WHO NEED A PLACE WITH SPACE
Some pets get on great with people and not so well with other animals. These special people need a home of their own and don't want to share their family with anybody else. If you understand the loner then one of these pets will make sure you are never lonely.

---

OPENING HOURS
We are now open daily from 9am-6pm (previously 9am-4pm), including weekends and public holidays!
Call us at 42565312 (9am-6pm) or drop us a line at adoption@spca.org.my for further details!