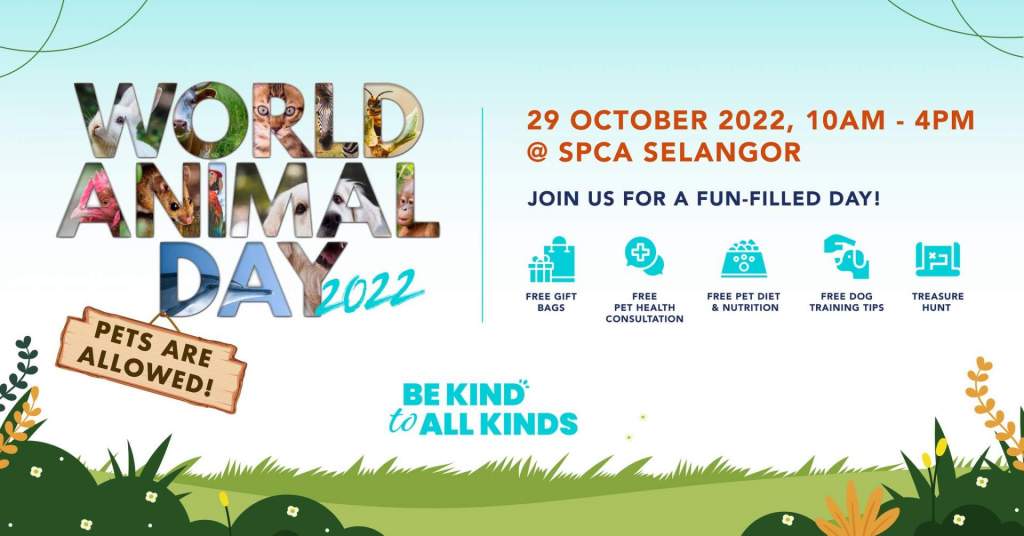 World Animal Day is back this year at SPCA Selangor!
Come and join us for a fun-filled day of activities and bring your family, friends and your pets too!
 29th Oct 2022 | Saturday
 10:00 A.M. – 4:00 P.M.
Jalan Kerja Ayer Lama, Ukay Heights, 68000 Ampang, Selangor (SPCA Selangor)
———————-
GIFT BAGS FILLED WITH LOTS OF GOODIES
* 100 gift bags available based on first come first basis. Click link to fill in gift bag redemption form to be eligible 
https://forms.gle/qPhh5yGQeSvNMye9A
———————-
Activities
 Pet Checkup by Starpets
Pet Diet & Nutrition by Pet World Nutritionists
 Dog Training Tips by Rubini Maruthian, ABCDT, Dog Gone Good Training
 Scratch Dig Dig Treasure Hunt
We are honored to have DYMM Tengku Permaisuri Selangor, Tengku Permaisuri Norashikin, to be present during the event.
See you soon with your family, friends and pets!